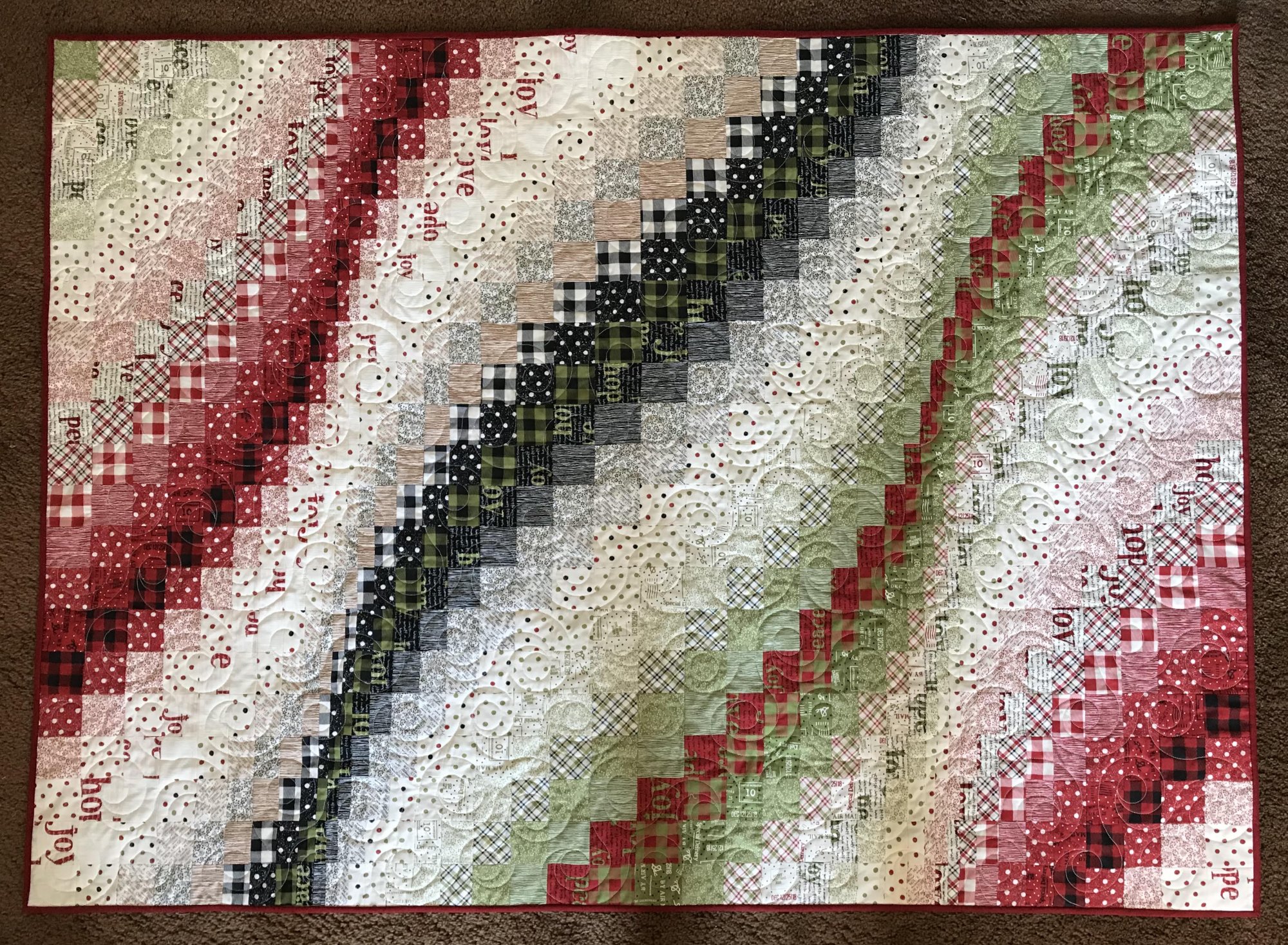 Layer Cake Bargello
*approx. 56" x 41"

It takes only one layer cake to make this fun and striking bargello quilt—and you don't have to choose all those fabrics!
*Note: You can use two layer cakes to make a larger quilt, approximately 56" x 80".
Fabric Requirements: 1 layer cake ( or 2 layer cakes, if you wish to make a larger quilt.)
Other materials and supplies:
"I Used To Be a Layer Cake" pattern from Black Cat Creations

Rotary cutter and mat

Rotary ruler (24" length will be useful)

Thread to match or blend with your fabrics

Sewing machine in good working order, with foot or other method to sew accurate

Standard sewing notions: pins, spare machine needles, etc.
Organizing and Pre-Cutting:
(If you are using 2 layer cakes to make a larger quilt, follow these instructions, but keep the layer cakes separate, so you will have 2 identical sets of all.)
Because accuracy in sizes of pieces will make your life so much easier, I check my 10" squares to make sure they are really 10" square, and usually find I have to trim a bit from all of them.
Arrange and stack your squares in an order that pleases you. I find that it is helpful to separate them into color groupings, then shade from light to dark and back again. You can split the color groups in two for extra interest. The order I used in the sample quilt can be seen by following the fabrics in a single column.
Making sure you keep the squares in the order you chose, cut the squares into 2-1/2" x 10" rectangles. You will have 4 identical stacks of 2-1/2" x 10" rectangles. Make sure the order of fabrics is the same in all 4 stacks.
Pre-Sewing:
There is a fair amount of sewing before you get to the bargello process, and if you would like to do that ahead of time, you will be ready for bargello in class:
Keeping the order of the rectangles, sew each stack into a strip set, sewing (right sides together) along the long sides. Alternate the direction you sew, to keep the strip from "bowing out": Sew the first two with the second rectangle from the stack on top of the first rectangle. When sewing the third strip, sew it with that third strip on the bottom, and so on. Press seams open.


Repeat with the other stacks of 2-1/2" x 10" rectangles. We will do the rest in class--remember to bring your pattern!
Lunch: We will order out for lunch ( from Pizza Counter, Pizza Hut, or Jimmy John's, according to participants' wishes) but you may bring your own lunch, if you like. The shop has a refrigerator, microwave, and toaster oven.
Karen Burns karen@warpedspinster.com
| | |
| --- | --- |
| Requirements: | In addition to fabric and sewing supplies, you will need the "I Used To Be a Layer Cake" pattern from Black Cat Creations. |
| Instructor: | Karen Burns karen@warpedspinster.com |
| Instructor Bio: | Karen Burns karen@warpedspinster.com |