Becky's News: Grandson #2
Meet: Riley Warren
Arrival: May 2, 2016


Becky is expecting grandaughter #1 in a few weeks. You know there's excitement around here.
















Jade's News: Engaged!
Meet: Nick Wolf
Wedding Date: Fall, 2017

Absence makes the heart grow fonder. Nick has just deployed with his reserve unit and will be gone for a year. Although we haven't actually met Nick, we have given him the CUAQ stamp of approval.







BlockStock Prize Winner

Congratulations Liz Wilson!
We drew Liz's name as the winner of the BlockStock 2016 Campaign. Liz is a frequent visitor at Cut Up & Quilt, so we were thrilled to give her the news and the prize!






2016 All Iowa Shop Hop Information

Click here to download the Sew Great Tours AISH Tours Information and Registration Form



Row by Row Experience
Row by Row 2016
June 21 - September 6


Stay informed! Follow the Iowa Row by Row Experience on facebook.


Classes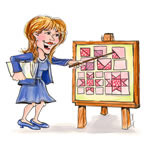 Check out the classes/calendar page for details.
You Show, We Tell




In a hurry for an adorable baby quilt? Donna Dickeson whipped this up from the Aussie Mates Panel from Henry Glass. Super cute and you can do it too!