We are thinking about Spring around here, so you'll see some new "happy" fabrics and new collections around the shop. Don't forget, you can check out all of our new arrivals on our website!






What's more fitting for the month of love and romance but "Destination Paris" by Whistler Studios for Windham fabrics. Doesn't it just make you want to travel now? You could travel by train..."Full Steam Ahead" just arrived from Quilting Treasures.





Jade made this super cute cushion from the Petal Panache Cushion Pattern using some of our new bright and happy fabric from the "Anything Goes Collection". She whipped it up in no time and it's getting lots of attention!





Our friend, Denniele Bohannon, of Louanna Mary Quilt Design is designing new patterns and you can find them in the shop or on our website as a download. We've kitted her latest pattern...Pinafores and High Tea. Denielle's an accountant by day, so check out another new pattern called...Tax Season.

Row by Row Design Contest

Here's a chance to win a $100 gift card from Cut Up & Quilt! Design a Row that represents our bright and happy shop while incorporating this year's Row by Row Theme of "On The Go".

All entries must be submitted by March 15th.
The winner will be selected by vote at the March CUAQ Therapy sessions.
The Rows must be 36-1/2" wide (unfinished) and no taller than 9-1/2" (unfinished). The row can run horizontal or vertical.
All entrants will receive a $25 gift card for submitting a valid design.




Upcoming Classes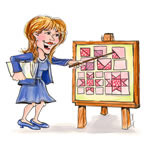 Check out the classes/calendar page for a current list of classes and events. It's always a work in progress with new additions added frequently.

The Fish Bowl

In mid January we started the "Fish Bowl".
Pay by cash or check and enter our monthly drawing for a $25 gift card.
Don't worry, we are always happy to accept your credit card.

Our first drawing was February 1st and our winner was Kerrie Denning!


Save the Date



March 18th is National Quilting Day

You'll want to put this date on your calendar, as we're sure to have something up our sleeve to celebrate!