Just when you think spring is around the corner, we get hit with another round of winter. We hope you are staying safe and out of the elements while happily quilting away.

March does bring us a busy month. CUAQ Therapy is next week. Don't forget to put it on your calendar. It's early in the month again since the 1st fell on a Thursday. We've got the Row by Row Design Challenge going on. The deadline for submitting your design is March 14th. We'll be voting on the winning design at CUAQ Therapy Thursday, March 15th. As usual, we have several classes to check out for March and April. And finally, we'll conclude the month with 5th Saturday!

Row by Row Design Challenge

We're giving you a chance to be a part of the experience by offering a $100 gift card from
Cut Up & Quilt to design a row that represents our bright and happy shop while incorporating this year's Row by Row Theme "Sew Musical".

All entries must be submitted by March 14th. The winner will be selected by vote at the March 15th CUAQ Therapy sessions. The winner must be willing to write a pattern to accompany their submission. All entrants will receive a $25 gift card for submitting a valid design.

There are multiple size options this year...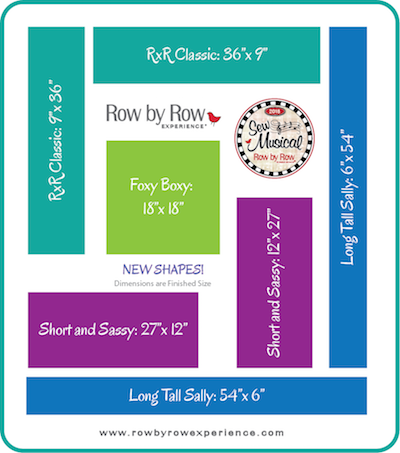 Upcoming Classes
Check out the classes/calendar page for a current list of classes and events. It's always changing with new additions that sometimes don't make it to the newsletter. Just click on the class you want and register on-line or in the shop. If it's full, be sure to add your name to the waiting list. It helps our instructors determine if another class will be added.

The Fast and Furious Club is going strong. It meets on the first Thursday of the month. There is limited space so reservations are required. Kits are available for each quilt as you go project.






Karen finishes out the month of March with the Broken Daisy Placemat class on Saturday, March 24th. This class uses Quiltworx foundation paper piecing. You know you'll end up with a stunning set of placemats.








Jean completes here sequence of bag classes with a complimenting Necessary Clutch Wallet on Saturday, April 7th. She'll host an optional cutting class on Friday the 6th from 5:00 - 6:00.








Karen's April 28th class is the Flowering Snowball. You will meet with Karen for an individual cutting session using her AccuQuilt to get ready for class. She'll set your mind at ease while tackling curves to make this striking quilt.
5th Saturday - March 31st


Wear your Cut Up & Quilt T-Shirt and receive 20% off your purchase of regularly priced items! If you don't have a T-shirt yet, you can purchase one for $15.00. If it's the 5th Saturday, we'll honor it that day!


We hope to see you soon @ Cut Up & Quilt!