The first week of August has already passed us by. Where does the time go? August represents the last of summer as we squeeze in our summer activities and prepare for kids or grandkids going back to school. For some, that might be a sad thing, but for others, it might mean more sewing time. We're all about that!

Our shop is full of Fall, Halloween and Christmas fabrics and kits. You'll want to stop by to get your seasonal projects lined up before the fabric disappears.

All Iowa Shop Hop Update

The All Iowa Shop Hop fabrics were a huge success this year. We still have the feature fabric and several of the coordinates available if you didn't get a chance to get it in June. You can check out what we have available on our website. The regional directors will be meeting soon to draw prizes and get them to the respective shops. Winners and prizes will be announced in September. You can always keep yourself informed by heading to the All Iowa Shop Hop website.



2018 Row by Row Experience

We had a winner!

Linda Finck of Council Bluffs was the first to bring in her finished Row by Row Quilt.

She collected her 25 fat quarters and a $25.00 gift card for including our row.

The Row by Row continues through Labor Day, so you check out the shops who haven't had a winner yet to claim your prize!








Great Fall Escape Bus Trip!

Our bus has filled to capacity, but you can still sign up on our website to be on a waiting list. Click on "select date" and it will allow you to sign up on the waiting list. If we get enough people, we'll add a second bus! For those that are anxious for details, we promise to have them posted on our website in mid-September. If we have your email address we will be contacting you in early October with the final details. Several people have inquired about parking: Parking is available at the side and behind our shop for the duration of your trip.


Upcoming Classes

Check out the classes/calendar page for a current list of classes and events. It's always changing with new additions that sometimes don't make it to the newsletter. Just click on the class you want and register on-line or in the shop. If it's full, be sure to add your name to the waiting list. It helps our instructors determine if another class will be added.

We have recently had several last minute cancellations for classes. Please give us the courtesy to let us know as soon as possible to free up the seat for someone who would love your spot. We will refund your class registration if we have at least a 24 hour notice.

We've had some popular classes offered this summer. The Layer Cake Bargello and the Jelly Roll Rug classes have filled up quickly. However, if you tried to get into a class and it was full, check again. Someone may have cancelled!



The Jelly Roll Rug has hit the nation by storm! Jean is offering two classes Both classes have filled, but please put yourself on the waiting list. I'm sure we could talk her into offering another class!













The Kaleidoscope Ruler Set was featured last fall at our holiday open house. If you haven't had a chance to use it, Karen has a Kaleidoscope table runner class schedule Saturday, August 11th.

















Karen made a lovely Layer Cake Bargello quilt. It is so stunning, we've filled several classes and have scheduled a total of five classes. If the class you want is full, please add yourself to the wait list. We can call you if there is a cancellation or when a new class gets scheduled.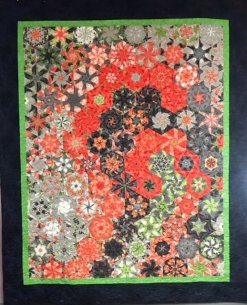 Karen has seats available in her September 22nd One Block Wonder class. This quilt is made with one fabric and it's so fun to put it together. We've got some new fabric in that just might be the ticket to your One Block Wonder.



















Kim added a new Beginner's class in October. It's a 4-part class which includes binding in November. That means you'll have a beautiful quilt for yourself or as gift to someone special for Christmas.






















Our September Fast & Furious Club will be meeting August 30th instead of September 6th due to a conflict in the schedule (Kim's vacation). We'll be making a quilt-as-you-go fall table runner. It's all kitted up and ready to go, including batting, backing, and binding. The class is optional and it's open to anyone who knows how to sew.
Reminders!

Charmed for Charity is no longer meeting on the third Wednesday.

Thursday, August 16th - CUAQ Therapy

Saturday, September 1st - 6th Anniversary Celebration!


We hope to see you soon @ Cut Up & Quilt!