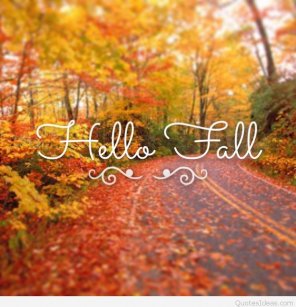 Fall is absolutely our favorite time of year at Cut Up & Quilt! Sunday, the 23rd was the official first day of fall and it couldn't have been more perfect. The cooler temperatures are invigorating and motivating.

The shop is buzzing with people wanting to start new projects and take new classes. So, we've got new models up and new classes on the calendar to keep you inspired.


We also have some exciting news to share. Many of you have expressed interest in the Laura Heine collage quilts. Judy Fletcher, a certified Laura Heine instructor is on the schedule for January. We don't have all the details firmed up so it's not available for registration just yet. It will be taught as a two-part class, so save the date for January 12th and 19th if you are interested. Watch for details to come!

The Great Fall Escape Bus Trip

Our bus has filled to capacity, but if you are willing to drive to Sioux City, the Heart & Hand still had room as of this week. You can contact the Heart & Hand to find out more: 712-258-3161. If we have your email address we will be contacting you in early October with the final details. Several people have inquired about parking: Parking is available at the side and behind our shop for the duration of your trip.

Our bus will be leaving Cut Up & Quilt at 8:00 A.M
We'll be opening the doors for your send off at 7:30 A.M.

All Iowa Shop Hop Update

The All Iowa Shop Hop fabrics was a huge success this year. We still have the feature fabric and several of the coordinates available if you didn't get a chance to get it in June. You can check out what we have available on our website. Winners and prizes have been announced. If you weren't called, you probably didn't win. If you want to see a list of all the winners, you can always keep yourself informed by heading to the All Iowa Shop Hop website.



2018 Row by Row Experience Update


The 2018 Row by Row is officially over but several participating shops have not had a winner. Follow the Iowa Row by Row Facebook page to check out the status.

We had a winner!
Linda Finck of Council Bluffs was the first to bring in her finished Row by Row Quilt in early July.

New this year: Kits and patterns are available for purchasesin shops that still have them in stock. They continue to be in hibernation for on-line or mail-order purchases until October 31st.


Upcoming Classes

Check out the classes/calendar page for a current list of classes and events. It's always changing with new additions that sometimes don't make it to the newsletter. Just click on the class you want and register on-line or in the shop. If it's full, be sure to add your name to the waiting list. It helps our instructors determine if another class will be added.

We have recently had several last minute cancellations for classes. Please give us the courtesy to let us know as soon as possible to free up the seat for someone who would love your spot. We will refund your class registration if we have a minimum 24 hour notice.




We will conclude our Fast & Furious Series of Projects on October 4th. This month it's an adorable Christmas table runner using the Swell Christmas line. It's all kitted up and ready to go, including batting, backing, and binding. The class is optional and it's open to anyone who knows how to sew. There is no need to have participated in a previous class to join in on the fun.









Jean is teaching another 3-D class called Roll of the Dice. It has been such a hit, it filled before we could get it advertised. Please sign up on the waiting list if you would like her to offer it in the future. Just click on the class as if you were enrolling and it will allow you to add your name to the waiting list.









Jean is starting a new Mosaic 18 Mystery Quilt Series. It will meet on three Thursday evenings, October 11, 25 and November 8. If you can't come to the class you can sign up for the email version. The clues will be sent to you via email on the same dates as the class.


























Karen has added another Layer Cake Bargello class to our schedule. This will be her 6th time to teach the class. It's so striking and it's fun to see it come to life as you create it. This class is offered on Tuesday, October 16th. We're fairly sure this will be the last time this class will be offered, so if you were thinking about it, this is you chance.






Did you see Karen demonstrate the 60 degree diamond-shaped ruler by Creative Grids during our holiday open house? We've learned it's a good idea to offer a class using the ruler. So, Woven Jewel Box has been offered and it currently has one seat left. Again, sign up on the wait list if you would like to take it in the future. Sign up as if you were enrolling in the class and it will offer you a wait list.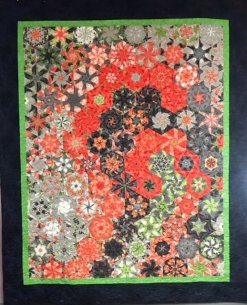 Due to "special" request, Karen is offering another One Block Wonder class on Friday, November 16th. This quilt is made with one fabric and it's so fun to put it together. Check out pictures of past classes on our Cut Up & Quilt facebook page or Karen's Warped Spinster facebook page.















Kim added a new Beginner's class in October. It's a 4-part class which includes binding in December. That means you'll have a beautiful quilt for yourself or as gift to someone special for Christmas.
























Winding Ways is Karen's newest class on our schedule for November. It uses Quiltsmart's printed, fusible interfacing which makes the machine applique process for this fun quilt easy!
Reminders

Saturday, September 29 - 5th Saturday

Thursday, October 18th - CUAQ Therapy

Saturday, November 24th - Holiday Open House/Small Business Saturday


New Featherweight Group
We hope to see you soon @ Cut Up & Quilt!